10 Compelling Reasons Why the Vegas Shooting Has Disappeared from Headlines
One of the things that I have noticed about the American public is their total lack of concentration on much of anything for more than a few minutes. To have an event of this nature slide into the background of the news cycle, something that is clearly extremely troubling and yet spend days on and on talking about Russia, Russia Russia is so disingenuous for the the Mainstream Media.
Here we have almost 60 people dead, and hundreds injured which was reported to have happened in the most deadliest mass shooting in American History.. all played out to be anyways, and yet, they are not releasing information, the authorities have locked down the hotels, the lawyers, the witnesses, the independent reporters and all of Vegas seems to be going back to business as usual. The citizen journalists seem to be the only ones who see this as problematic.
People have been researching 911 for over 16 years, and JFK for decades so why is this event any different, and especially considering the loss of life and injuries endured.
How many lawsuits? How come no word about legal issues?
Where is the FBI on this case? Why are they changing stuff.
It's like they got caught, then decided to simply erase the whole event out of history. Not the first time.
But how can people allow this?
YouTube has done its level best to discourage anyone from posting information on this event on their channels. YouTube is severely censoring creators, shutting down channels, deleting subscribers and a host of other passive aggressive tactics. It's almost like you know, your video will be demonetized moments after you press "publish".
Mention Las Vegas, and instantly your video gets hit. It's reminiscent of pizzagate.
But we cannot let them deter us. If YouTube wants to play Las Vegas Police on Las Vegas videos, we have to find other alternatives to share the information. YouTube will regret what it is doing but right now, we gotta keep it in the front of the minds of the people.
I am not on the ground, I am not going to Vegas to check anything out, but what I can do I will do. All these other events are just distractions to keep us from paying attention. We cannot let them do that. They will throw us a bone and have us grapple at that bone, while they are off planning their next false flag.
Vegas WAS HUGE!!!
And it was a Huge Cover-up.
Vegas was War!
And while after 911 they wanted to claim it was the Arabs who had declared war on the US, this Vegas thing has become hopelessly lost in the sauce of daily tripe. People don't even seem to realize that it was an act of war against American People.. And by whom? Are they still on the loose? And why? And for all intents and purposes, who else but a well funded, well orchestrated, well informed, group of folks could have pulled this off. Not some amateur gun runner.
So check out this article. Book mark this page and refer to it. Think about the points it makes and ask yourself, why?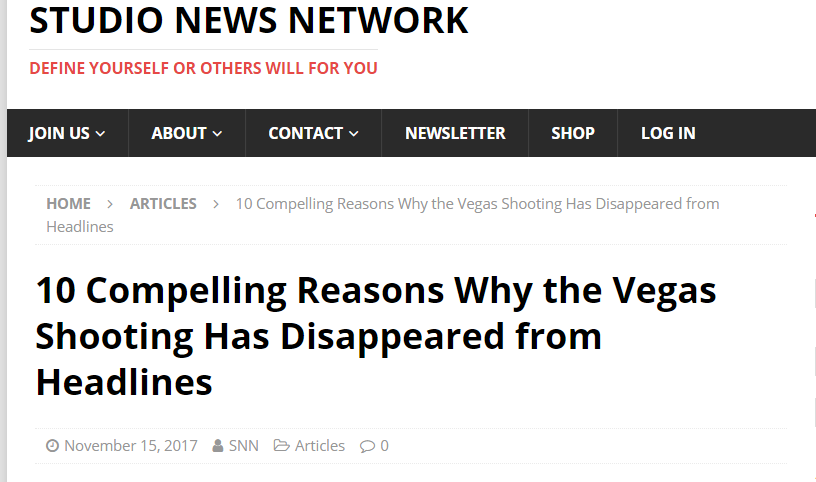 10 Compelling Reasons Why the Vegas Shooting Has Disappeared from Headlines
Excerpt:
Las Vegas, NV – With the 24/7 news cycle constantly in full swing, important stories at times get lost in the constant onslaught of non-stop information. The mainstream media gatekeepers essentially dictate what social and cultural memes are injected into the public consciousness, what topics are discussed, and which cases are given publicity and thoroughly investigated with journalistic rigor.
With such oligarchical control of the mass media – the media gatekeepers of information decide what stories stay in the glare of the public spotlight, and which ones are allowed to fade from the headlines.
Without question, one would reasonably expect the most deadly mass shooting in recent American history, which took place in Las Vegas on October 1, 2017, to maintain a strong presence in the headlines — especially given the lack of answers surrounding the case.
The scant information released by investigators indicates that Stephen Paddock, 64, who by all accounts was independently wealthy and a Vegas high-roller, opened fire on a music festival from a 32nd-floor hotel room at the Mandalay Bay Casino.
The massacre left 58 dead and 546 injured, yet one and a half months later and there are still few answers – even to the most basic of questions.
Now, a month and a half later, there are few answers to the most deadly mass shooting in recent U.S. history – and perhaps even more strange – the case has been jettisoned from the 24/7 mainstream media cycle, despite the fact that the most basic of questions have yet to be answered.
MORE READING
Las Vegas Police Present Third Shooting Timeline as Confusion Turns to Anger (VIDEO)
Las Vegas shooter's girlfriend returns to US as police reveal details of his planning
10 Compelling Reasons Why the Vegas Shooting Has Disappeared from Headlines
Las Vegas shooter's laptop missing its hard drive
Las Vegas shooter took 20 cruises, some to foreign ports
Las Vegas shooting: Officer fired weapon in Paddock's suite, sheriff says
Las Vegas guard Jesus Campos vanished after visiting urgent-care clinic, union leader says
3 Ways The NYC Terrorist Attack Proves The 'War on Terror' is a Failure and Simply Propaganda
Jesus Campos reportedly left the country days after Vegas massacre
3 Las Vegas Survivors Have Mysteriously Died Less Than a Month Since the Attack